Like most people who work in social media, we've been keeping a very close eye on the creator economy. Such a close eye, in fact, we've made it one of the top trends in our Social Trends 2022 report.
It's also what led us to our conversation with Jamie Byrne, YouTube's Senior Director of Creator Partnerships. We interviewed him during the report's research process.
Byrne is uniquely positioned to talk about creators. Not only is he one of YouTube's longest running employees (with a whopping 15 year tenure), his teams also work directly with both creators and brands to ensure their success with YouTube.
In his time with YouTube, Byrne has seen the evolution of creators and the creator economy first-hand and he has some insights into what matters right now—and some big predictions on what will happen next.
Download the full Social Trends report to get an in-depth analysis of the data you need to prioritize and plan your social strategy in 2022.
The death of the single platform creator
This is a great time to be a creator. Well, in some ways.
"Creators have risen to a new level of influence and power," explains Byrne. But that rise hasn't been without its challenges.
The biggest one: The expectation—and necessity—that every creator be a multiplatform one.
"If you went back two years… you were a YouTuber or you were on Musical.ly or you were an Instagrammer," explains Byrne. "Today, it's table stakes as a creator that you have to be multi-platform."
This is a major challenge for creators, he says, because they have to figure out how to scale both their production and engagement. It's a delicate balance of ensuring they have the right output for each platform, a system for engaging with their fans on each, and the ability to monetize effectively across their channels.
Byrne sees opportunity in this challenge too, though.
Namely, in the hundreds of new businesses that have sprung up to serve these multi-platform creators. On top of that, there are tools that help creators do things like manage all of their platforms from a single dashboard (cough cough).
This shift has been driven in part by the creators themselves.
Wary of being too reliant on a single social network, they've gone multi-platform to diversify their growing businesses. This means major changes like algorithm updates, new feature introductions, and business model shifts don't have as much power over their success—ultimately making them more resilient. It also gives them access to a wider variety of monetization options.
The evolution of creators on YouTube
Byrne has watched YouTube's creator economy evolve over the past 15 years and he has some thoughts about what's going to happen next on the platform.
He's paying particular attention to the rise of mobile-native Gen Z users and what impacts a community of mobile-first creators and viewers might have on the platform.
He predicts that YouTube's creator ecosystem will evolve to have four main types of creators:
Mobile-native casual creators
Dedicated short-form creators
Hybrid creators
Long-form content creators
While the latter three categories are the dedicated type of creators we most often associate with the word, he also sees a place for more casual creators.
"They're someone who maybe captures a funny moment that is hilarious [and it] goes viral," he says. "They're never going to be a long-term creator, but they had their 15 minutes."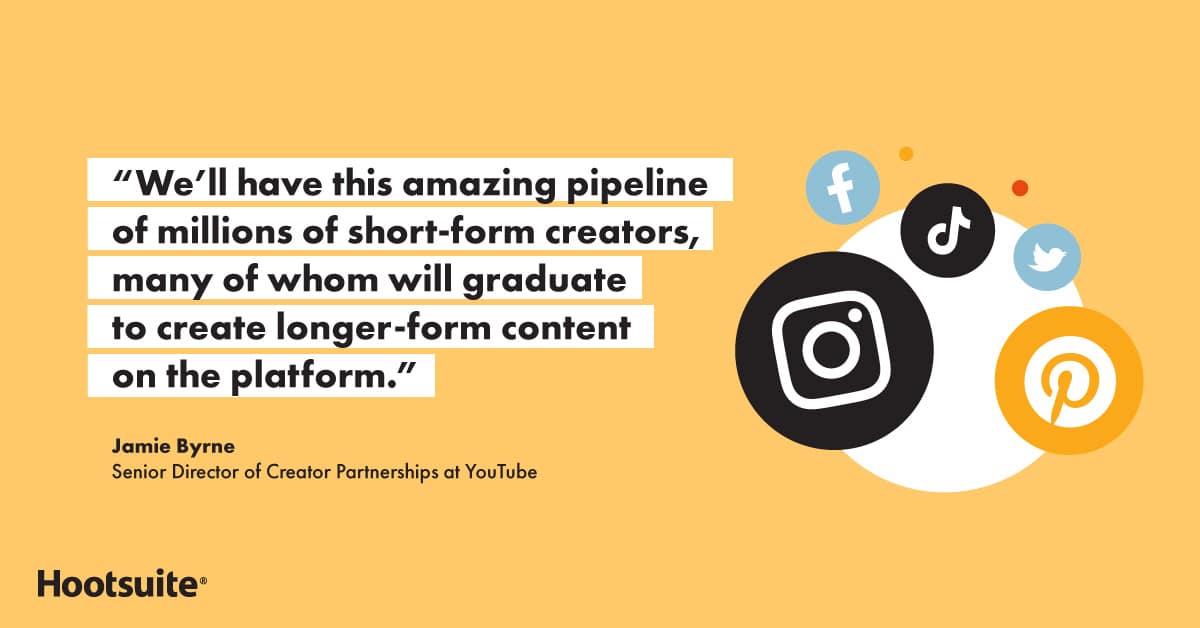 He also imagines a future in which dedicated short-form creators "graduate" into hybrid or long-form content creation, similar to the successful Vine stars that migrated to YouTube when that platform was shuttered.
"They became the largest creators on the platform, because in short form, they were great narrative storytellers," he says. "They just needed to figure out how to go from 15 or 30 seconds to three minutes to five minutes to 10 minutes."
Byrne pictures YouTube Shorts as serving a similar role to Vine as a sort of farm team for more dedicated content creation.
"We think that what we'll see on YouTube again is that you'll have this casual native, Shorts-only Kendall Walters," he explains. "You'll have a hybrid creator who's playing in both worlds. And then you'll have your pure play, long-form, video-on-demand creator. And we think that puts us in an incredible position because we'll have this amazing pipeline of millions of short-form creators, many of whom will graduate to create longer-form content on the platform."
What is YouTube doing about it?
Byrne says his team is hyper-focused on being the voice of creators for the rest of the organization. They uncover the needs of creators and share that back to ensure those needs are being met.
To that end, they now have 2 million creators in the YouTube Partner Program. And with those insights, they've zeroed in on one major area: monetization.
"We're really focused on making sure that we have a robust suite of monetization tools to help make creators successful," he says.
"What that enables creators to do is piece together the portfolio of monetization options that works best for them and works best for their community. We're really trying to empower them and give them a business toolkit on our platform."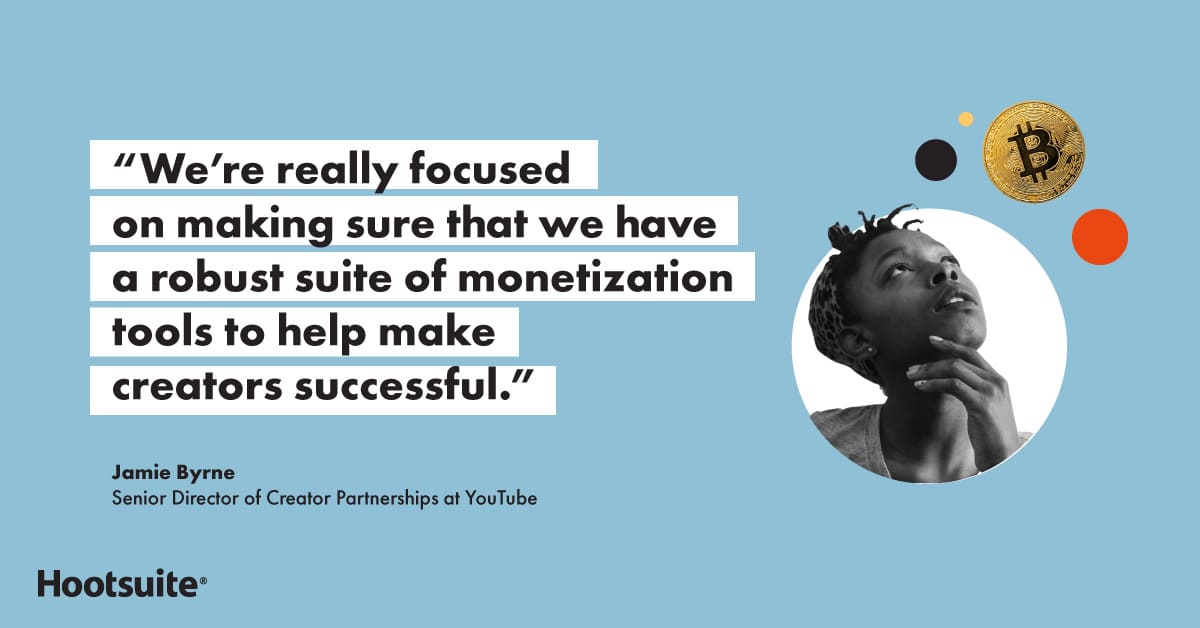 While that includes advertising, it also goes far beyond it. There are now 10 ways to make money on YouTube, which has paid out more than $30 billion to creators, artists and media companies in the last three years alone.
One part of that is creator funds, such as their Shorts Fund which encourages creators to use the new short-form video feature.
Another part is what Byrne's team calls "alternative monetization" options. YouTube now offers nine other ways for creators to monetize on the platform, including features like channel membership or Super Thanks, which allows viewers to tip creators while watching their videos.
Creators are essential to YouTube working as a platform, and Byrne's team is dedicated to keeping them happy so they can do what they do best.
The creator economy doesn't work without marketers
Anyone who's seen a slapdash #sponsored post for detox teas likely feels that creators would be better off without advertisers. But Byrne feels marketers are actually a critical piece of the YouTube ecosystem and the creator economy at large.
"There's actually three constituents in [the creator] community," he says. "There's creators, there's fans, and there's advertisers."
"This is a mutually beneficial system," he explains. "The advertisers provide the revenue for the creators that they use to invest in their content, to hire production teams, to increasingly uplevel the quality… [and] the sophistication of their productions.
"And then what the creators provide to the marketers is incredible reach… And then the fans benefit because they have all this incredible content that they don't have to pay for… If the marketers were to go away, it would be very, very challenging."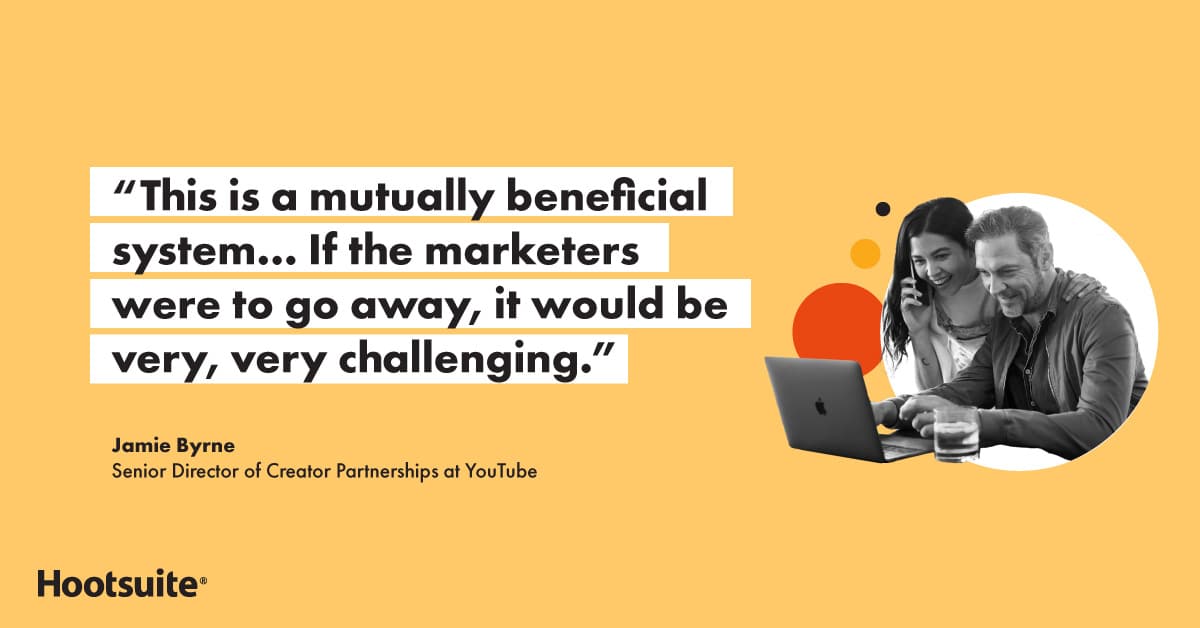 The key here is that brands need to work with creators in the right way to ensure that they're not ruining what works about the creator's content in the first place.
Giving the creator freedom to incorporate the product or service into their content in a way that feels both authentic and organic doesn't only result in a better experience for their followers—it also produces better business results.
We talk about creators (a lot) in our Social Trends 2022 Report, which includes an entire trend focused on how brands and creators can work together effectively. It's the first trend, but they're all worth a read. (I know, we're a little biased on this, but just trust us on this one, okay?)
Read the Report