ROI, or return on investment, has become the holy grail of social media marketing. But while the quest for social marketing ROI is not a linear journey, it also needn't be as convoluted and futile as the quest for the holy grail itself (at least not the Monty Python kind, ya know). It's just a matter of understanding the complexities and nuances of where to find ROI and what can lead you there.
See, there's no one metric that determines your success on social. Instead, it's a collection of metrics and KPIs (key performance indicators) that are shaped by your organization's purpose, structure, and business goals. These metrics may be results from paid social campaigns and organic efforts that, together, create a fuller picture of where you're getting returns and where you're not.
Free downloadable guide: Discover 6 simple steps to calculating your social media ad campaign ROI.
Track micro and macro actions to understand ROI
Micro actions, as the name implies, are small things customers do to indicate where they might be in the buyer journey. These are also your social media metrics. They can be granular and may even be mistaken as "vanity metrics." But depending on your business goals, they can be telling of your customers' intent.
Micro actions are easily measurable since metrics are a basic currency on any platform, whether you're doing paid or organic social. These are your reach, impressions, views, follows, likes, comments, shares, and click-throughs. Added up, micro-actions often lead to the final action, or the macro action, that your business wants to drive.
Macro actions are more telling of the big picture. If micro actions are metrics, macro actions are tracked through social media KPIs. KPIs indicate how much social is contributing to larger strategic business goals, whereas metrics measure how well your tactics on social media are performing.
For example, let's say your goal is to boost product sales by 20%. The macro action you want customers to take is to make a purchase. KPIs could include the number of purchases you're getting or the revenue you're generating. The micro actions that lead to this could include engaging with social posts that talk about the product, sharing these posts, or viewing the product's page on your website. These are tracked through likes, comments, shares, and views.
All told, these micro and macro actions are the key to figuring out what kind of returns you're getting. Tracking just one of these won't mean much, but knowing the killer combo that's right for your business makes life that much easier. Tools like Hootsuite Social Advertising make this simple with extensive customizations that let you filter results so you can see your paid and organic metrics exactly the way you want to.
Understand how your business model affects metrics and KPIs
The question is, what metrics should your business be tracking? It all comes down to how your business operates and what your goals are.
For instance, while DTCs (direct-to-consumer) and B2Bs can both aim to boost their sales, different things will lead up to it. Therefore, each will have different metrics for determining ROI. DTCs can glean a lot about customer intent by tracking metrics like page views, link clicks, and time spent on their website prompted by paid ads. Even engagement with organic posts can signal levels of interest, especially if specific products or services are mentioned.
On the other hand, SaaS (software as a service) companies or car dealerships for example often require higher intent and have a more complex sales funnel. Micro actions such as post likes, page views, and link clicks first lead to macro actions like brochure downloads, trials, and demos before they ultimately translate to sales.
Metrics can also look very different for online shops versus brick and mortar establishments. Online shops can track the full customer journey via social media and analytics platforms. Therefore every metric and KPI they get could be a potential indicator of ROI. But for brick and mortar stores, the last stages of the buying process happen offline.
While website visits and page views are a good metric for online shops, they won't mean much for brands who don't sell online. Instead, impressions and reach can be a better indicator of ROI because the higher the brand awareness, the more potential in-store traffic.
Focus on metrics for each stage of the funnel
Understanding how metrics work doesn't end with your business model. It's also important to consider the customer journey. Each stage of the sales funnel has key metrics that indicate the level of customer intent. Understanding these will give you a better idea of how exactly you're getting your ROI.
To start, at the top of the funnel is brand awareness. This is like casting a wide net and seeing how many people you can catch. Metrics for this stage typically include:
Reach and impressions for organic posts
Cost per thousand impressions (CPM) for paid social.
Further along is the interest stage. At this point, people know your brand exists but want more information. Are you the right fit? Can you provide what they need? What more can they learn about you?
Metrics for this stage naturally indicate a little more involvement, such as:
Likes, shares, follows, and link clicks for organic social posts
Cost per click (CPC) for paid social
Once your customer knows enough, they can assess you at a deeper level. This is the evaluation stage. This usually involves customers getting more granular about your products and services.
For DTCs online, it's not just about browsing the website—it could also mean:
Spending longer times on the product page
Making inquiries from your social pages
For B2Bs, this could translate into metrics such as:
Demo requests and trials
Number of qualified leads
Finally, the last stage of the funnel is purchase. By this point, your customers are ready to convert and perform the final action that supports your campaign or business goal.
If you operate online, metrics to track could include:
How many "add to cart"
How many checkout
If you're a brick and mortar, this is when they visit your store and make the purchase.
Just like with business models, ROI metrics pertaining to the customer journey are nuanced. But knowing what to track and when gives you a better idea of how you're building up to social success.
Identify the metrics that matter
So, we've established that there are a LOT of metrics you can be tracking, but which ones contribute most to your ROI? To find out, work backwards from your end goal and think about the sales funnel. Which metrics show deeper and deeper intent? Which actions along the way lead customers to your goal?
Reach and impressions may be good for brand awareness, but eyeballs on your product won't necessarily translate into purchases. Profile follows or post likes, on the other hand, signify more interest in your brand, which could mean that the customer is one step further into their buyer journey.
Similarly, comments and post shares require even more work from customers. Metrics like these show that your brand or content is resonating enough to elicit concrete actions. And when they're willing to leave the network they're on to follow your link, that shows even greater intent.
In short, the more the customer goes out of their way to learn about your products and services, the more you can count their actions towards your potential ROI. Being able to track these actions in one dashboard also gives you an easy glimpse of how your paid and organic social tactics are faring against your benchmarks.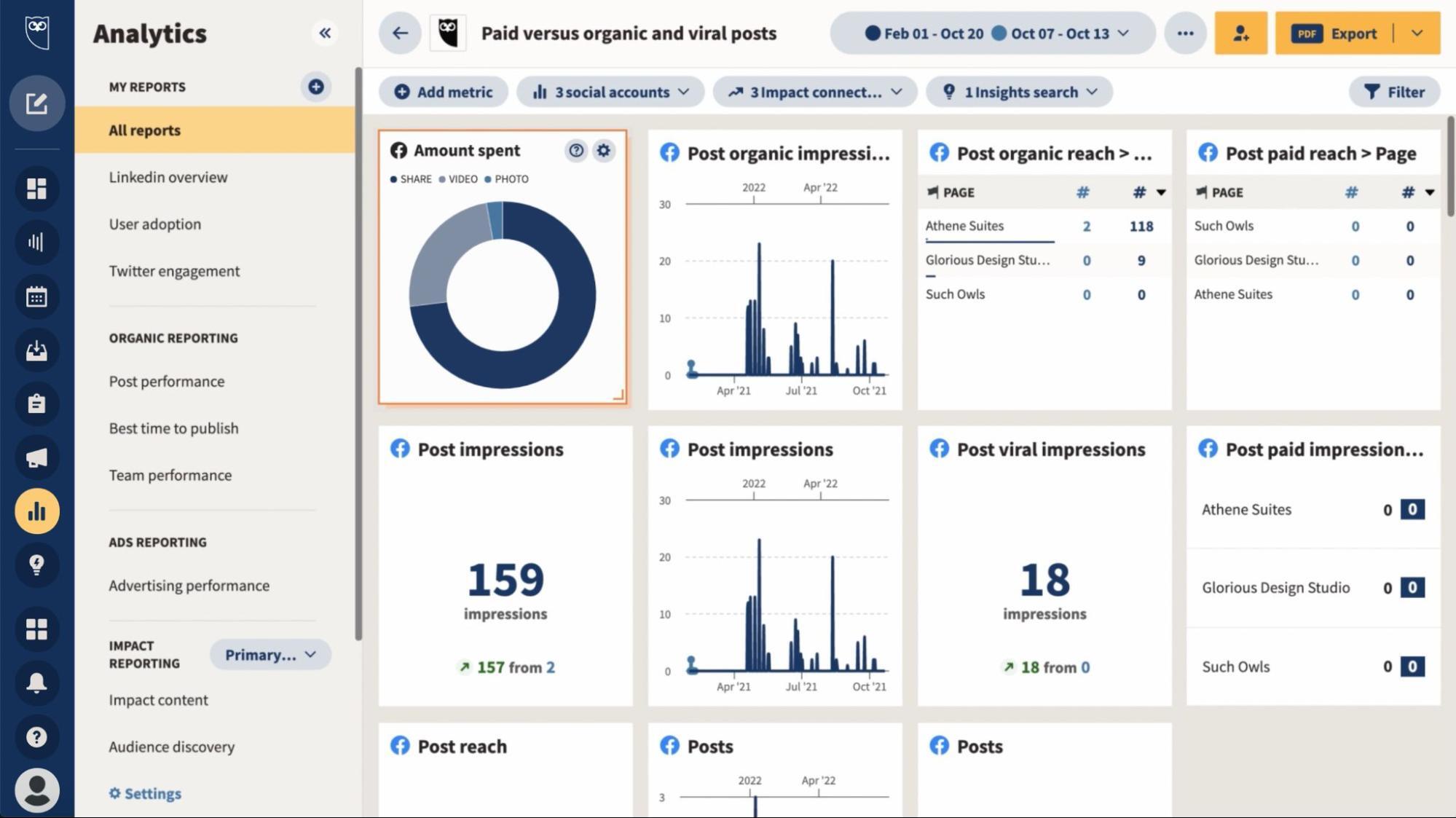 From here you can focus on actions that are even more involved, like trials, demos, leads, downloads, and initiated checkouts—all of which are one step away from conversion.
Find out how Hootsuite can help you manage your paid and organic social efforts together (and get a guide that gets into the nitty gritty of ROI for both).
Learn More
Easily plan, manage and analyze organic and paid campaigns from one place with Hootsuite Social Advertising. See it in action.